2023 International Conference on Physiotherapy in Oncology (ICPTO)
January 16, 2023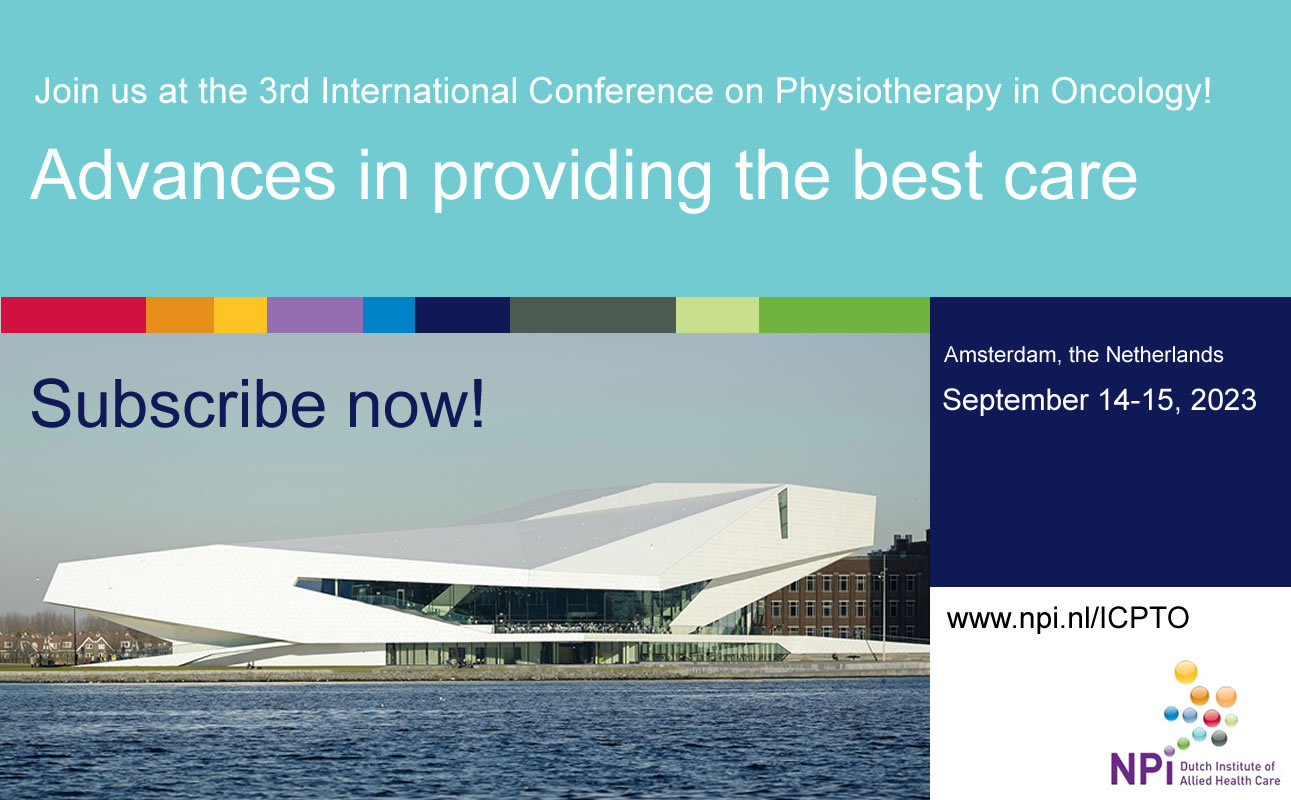 Join us at the third International Conference on Physiotherapy in Oncology (ICPTO), which will take place in the EYE Filmmuseum, Amsterdam on September 14 and 15, 2023.
With this conference, we aim to bring together physiotherapists working in oncology from around the globe, to share knowledge, exchange best practice, and update knowledge based on recent scientific developments. As physiotherapists play a pivotal role in helping people living with cancer to manage side- and long-term effects of cancer and cancer treatment, the overall theme of the 2023 conference is 'Advances in providing the best care'.
The meeting will contain plenary sessions regarding the role of physiotherapy in oncology, including a focus this year on the potential role of innovative technology, new approaches to address policy and advocacy issues, including diversity and inclusion, management of musculoskeletal sequelae to cancer treatment and knowledge translation. The speakers are internationally recognized researchers, clinical experts or professional leaders.
A chance to highlight your own work and network
The opportunity to submit symposium proposals and posters for presentation will enable you to highlight your own research.
This meeting will be a great venue to network with fellow physiotherapists from all over the world that provide cancer rehabilitation every day!
Organization of the conference
The bi-annual conference is organized by a program committee of invited international physiotherapy clinicians and researchers in the area of oncology rehabilitation, in collaboration with the Dutch Institute of Allied Health Care (NPi) and supported by International Physiotherapists for HIV/AIDS, Oncology, Palliative care Empowerment (IPT-HOPE), a subgroup of World Physiotherapy, and Onconet.
Target audience
The target audience is physiotherapists, but the conference is also open to anyone interested in oncology rehabilitation including occupational therapists, exercise physiologists, nurses, physicians, other allied health and people living with and beyond cancer.
Amsterdam
Amsterdam, the capital city of the Netherlands, has a rich history. While you are here, take some time to admire the characteristic architecture and the canals. Amsterdam has many museums, including the van Gogh museum and the Rijksmuseum which has Rembrandt van Rijn's famous "Night Watch" on display. You can also experience a spectacular 5D flight over many must-sees of the Netherlands in 'This is Holland', the building next door to the EYE Film museum. And of course, you can enjoy the vibrant and diverse nightlife that Amsterdam is known for.
Program and other relevant information for participants
As a participant you get access to the private website www.npicursus.nl.
Here you can find all information; e.g.: schedule, preparations, updates.
Please share this invitation with any colleagues who might be interested in attending.